About Us
Buono Espresso is a small business located near Norwich in the UK. The name 'Buono Espresso' is derived from the Italian words for good coffee.
Starting from a small Piaggio APE Van, modified to carry an espresso machine, s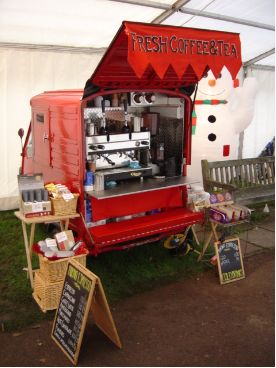 elling coffee at Local markets and events, we began to roast our own coffee. After recieving a very positive response from our customers we decided to make our coffee beans avaliable for people to buy.
Since then we have expanded to supply a range of different coffee making equipment which like our coffee have been tested and used by staff who, naturally, love all things coffee related. It has always been our policy to never sell anything that we wouldn't be prepared to buy or use ourselves.
We know that the "Espresso Experience" is fundamental to our customers so we pride ourselves on the variety of flavours, aromas and body that we offer which are accentuated by roasting each batch of coffee to order, to ensure that you recieve the freshest beans possible.
Furthermore, we offer an extensive source of products at low prices to further improve the coffee experience such as stove-top espresso makers and milk-frothers by aerolatte, cafetieres by Le Cafetiere and a selection of high quality cups and saucers from The Tabletop Co. Visit our shop to view our range of coffee euipment and related products.